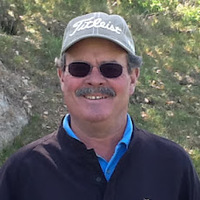 Tom Good, PGA Golf Professional
IMPORTANT NOTICE

Packages will no longer be available online. Single lessons - 45 min. or 1 hr only. I will be teaching until the end of January, so if you think you can get through a series by then, let me know and I will book it privately for you.

My wife and I will then be going on a long awaited vacation in February followed by our retirement at the beginning of March 2018.

If you have any packages with lessons still to be taken, you need to get them in by January 31st, 2018.

I have enjoyed working with all my students young and not so young. I will miss teaching, but it is time to stop working all day long and go and have some fun.

The enjoyment and ability to work with golfers of all ages and skill levels is something I take great pride and satisfaction in. My goal with every student is to work together as a team, to improve and enhance their knowledge of the golf swing and their own game. Being able to communicate on the students level is vital for the successful progression of the student.

GIFT CERTIFICATES AVAILABLE - Email or Call for Details

To check availability of same day lessons, please text 408-460-8025 and I will get back to you a.s.a.p.

As a PGA Golf Professional, I am called to grow the game of golf by bringing youth into the game. As Director of Instruction at Cinnabar Hills, I continue to develop the Junior Golf Program, starting with individual coaching from the age of 5. Also offered will be week long Summer Camps for ages 7 to 16. Private groups can also be arranged by contacting me directly. Beginning in early spring, 1 hour weekly classes will also be offered throughout the summer.

Having personally played competitively from junior golf to Professional, has given me the experience to work with young players as they advance to tournament play. I am able to guide them in developing all aspects of their game, including proper practice, tournament scheduling, proper nutrition, physical training and helping balance life and golf.
Achievements
35 year member of the Professional Golfers Association of America (PGA)

Member of the USGA

Creator of The 2 Hole, 2 Hour Women's Golf Group

Director of Instruction - Almaden Golf & Country Club 1989 - 2007

Director of Instruction - Cinnabar Hills Golf Club

Graduate of Klemmer & Associates Personal Mastery Program

Head Golf Professional - Almaden Golf & Country Club 2007 - 2011

Certified US Kids Instructor
Areas of Focus
Putting

Short Game

Full Swing

Fitness

Club Fitting

Bunker Play

Fundamentals

Jr. Golf

Women's Golf

Mental Game

Competitive Golf

College Prep
Playing Experience
Collegiate Golfer

Mini Tours
Club Fitting Certifications
Certifications
PGA Professional

U.S. Kids Golf
Single Rates
Group Rates
| Golfer | Lesson | Duration | Students | Price per person | |
| --- | --- | --- | --- | --- | --- |
| Adult | Private / Semi-Private | 60min | Group of 2 | $55 | Book It |
| Adult | Private / Semi-Private | 60min | Group of 3 | $40 | Book It |
| Adult | Private / Semi-Private | 60min | Group of 4 | $35 | Book It |
| Junior | Private / Semi-Private | 60min | Group of 2 | $55 | Book It |
| Junior | Private / Semi-Private | 60min | Group of 3 | $36.66 | Book It |
| Junior | Private / Semi-Private | 60min | Group of 4 | $27.5 | Book It |
Videos
Casting Elimination Drill
Student Reviews
Tom V San Jose, CA
Submitted September 23, 2015
Phil E San Jose, CA
Thanks Tom! Submitted September 23, 2015
Richard K San Jose, CA
Submitted September 18, 2015
Dave U San Jose, CA
Submitted August 28, 2015
Philip W San Jose, CA
Submitted August 20, 2015
Greg S San Jose, CA
Helps you play YOUR game.

Made golf fun again. Submitted August 18, 2015
Martine B San Jose, CA
Submitted August 3, 2015
Jackie C Milpitas, CA

We always book the 1 hour lesson for 2 people. And he always to amaze us-- we would have like 6 different things that we want to work on and he tackles all of it within the time frame. So freaking efficient and worth every penny!

Plus did I mention that we're LEFT handed golfers?

Would totally recommend him as an instructor. Submitted August 2, 2015
Kent W Los Gatos, CA
Submitted July 13, 2015
John & Cyndi G San Jose, CA
Submitted June 29, 2015
Chris P San Jose, CA
Submitted June 27, 2015
Reg T Los Gatos, CA
Submitted June 25, 2015
Eric B San Jose, CA
Submitted May 27, 2015
Mark G San Jose, CA
Submitted April 27, 2015
Gabriel G Morgan Hill, CA
Submitted March 4, 2015
Daniel S San Jose, CA
Submitted July 17, 2014
Cynthia Z Milpitas, CA
Submitted May 27, 2014
Chuong N ,
Submitted May 20, 2014