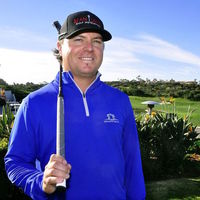 Book a Lesson with Sean Lanyi Golf Instruction
One Day GolfXperience at the Ko Olina Golf Club
The One Day GolfXperience at the Ko Olina Golf Club is a Complete Experience for the player looking to make dramatic improvements to their golf game. The morning session is devoted to mastering the fundamentals and technique for Putting, Greenside Chipping, Pitching, Bunker Play and the Full Swing. After lunch, enjoy playing 9 Holes of Golf with Sean Lanyi at Ko Olina Golf Club, teaching you how to implement the new skills in a pressure-free environment. A challenging, 18-hole championship golf course on Hawaii's beautiful island of Oahu. Ko Olina Golf Club, one of Golf Digest's "Top 75 Resort Courses in the U.S." is a challenging 18-hole Oahu golf course built in 1990 by renowned course architect Ted Robinson. Typical of his designs, Ko Olina Golf Club features exceptional water features, multi-tiered greens, large landing areas, and a moderate length which makes it perfect for beginners and experts alike. Located on the sunny West Coast of Oahu, just a short drive from Honolulu and Waikiki, Ko Olina Golf Club is also home to the 2012 – 2017 LOTTE Championship presented by Hershey.
View
February 17th AimPoint Express Level I & II Workshop
AimPoint Express – Level I & II Read Class with Speed Training. Learn to master reading flat, subtle and severe slopes. Master Short Putts and Single Breaking Birdie Putts. Learn how to read putts with multiple tiers and slopes. Manage your speed and pace on the greens and develop tour like tempo. This session lasts 90 Minutes – Maximum 8 Students Contact Sean at Sean@SeanLanyiGolf.com or visit www.SeanLanyiGolf.com to learn more about future dates and locations for AimPoint Express Workshops. $199 per Student.
View
AimPoint Express TOUR Experience at Langdon Farms Golf Club
The AimPoint Express TOUR Experience is the most comprehensive Putting & Green Reading experience for any level golfer, young or old. Improve your green reading skills, start your ball on line and control the pace and speed of your putts. Each golfer will learn a green reading approach that is fast and efficient, developing a process and putting routine for practice sessions as well as everyday play. Golfers will go through an array of stress and performance drills and learn how to practice with a purpose. Join Sean Lanyi, AimPoint Express Level III and Putt Doctor Certified Instructor and Jason Pride, AimPoint Express Level I and Putt Doctor Certified Instructor . This experience is 3 hours in length. Register now as space is limited or contact Sean@SeanLanyiGolf.com or (702) 327-0608.
View